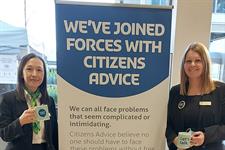 Business Charity Awards: Banking and Financial Services – Yorkshire Building Society and Citizens Advice Partners
The pandemic, coupled with the ongoing economic turmoil, has brought to light the many challenges people are facing.
In response, the Yorkshire Building Society has invested £1.8million in 2021-22 to build on existing community programs to roll out a range of new interventions.
The company aimed to provide practical help to people, with a focus on skills, employment, financial education and well-being.
In May 2021, the construction society launched a pilot program with Citizens Advice to fund advisers in six branches, providing free, face-to-face and independent advice to members of the public on a range of issues, including well- be financial.
The project helped the organization increase its reach, helping people who had never accessed its services before. Almost two-thirds (64%) of clients encountered are new to the Citizens Advice Service, while almost a third are over 65, compared to 15% for the wider Citizens Advice Service.
The program helped nearly 600 people in its first eight months, more than 40% of whom returned for help two or more times.
Following this success, in March 2022 the Yorkshire Building Society extended its partnership to a further 12 of its branches in Yorkshire and the North West.
Strongly recommended
Charitable partnership Mind & Allianz – Mind/Allianz
Finalists
Applying business thinking to boost charities' resilience during the pandemic and beyond – Bounce Back Foundation/Columbia Threadneedle Investments
Investing for success – Arrival Education/Investec
Connecting communities – WEA/Lloyds Banking Group
NatWest Group and the Disasters Emergency Committee – Disasters Emergency Committee/Natwest Group
Newcastle Building Society and Newcastle United Foundation – Newcastle United Foundation/Newcastle Building Society