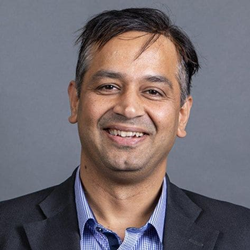 Disrupting Centralized Financial Services in the Metaverse with Neeraj Satija
The metaverse offers the perfect opportunity to create financial products and services that allow customers to gain more financial knowledge and control their own data.

TAMPA BAY, Fla. (PRWEB)
September 19, 2022
According to the TIAA Institute-GFLEC's 2020 Personal Finance Index, only 52% of American adults have financial knowledge – measured by a series of questions covering topics such as investing, insurance, saving and understanding risk.¹ At the same time, this lack of financial literacy creates increased reliance on centralized financial institutions. However, consumers who rely on these large financial institutions face transparency issues. Customers who do not wish to have their financial data shared must manually unsubscribe, often with limited options to do so. At the same time, nearly 90% of consumers believe there should be an opt-in standard in place rather than an opt-out standard.²
Enter the disruptor Neeraj Satija, co-founder and CEO of Lucrisma and PSAG, who believes in educating consumers by demystifying some of the most complex financial concepts. Through the use of decentralized financial services in the metaverse, Satija paves the way for consumers to interact with their finances in a completely seamless way.
With 24 years of experience in the technology industry, Satija is now passionately leading the way to changing the way consumers interact with their finances.
Satija explains:

1) Disruptive innovation should be something that propels a space forward while helping humanity.

2) Customers deserve to be educated about finances, which can be done by demystifying some of the more complex concepts.

3) The current status quo of financial services is a centralized system. There is usually an intermediary – or several intermediaries – between the clients and their service providers.

4) The control does not belong to the customer. It's an unbalanced equation. This allows centralized financial institutions to raise prices when they feel like it and allows them to have access to more of a customer's data than they need. It has also led to a lack of transparency on how customer data is sold and shared with third parties.

5) The decentralization of financial services will mean that there is no longer a centralized entity. Instead, two peers (the customer and the service provider) can deal directly with each other without the need for an intermediary. Consumers will be able to decide who has access to their data and to what extent.

6) Decentralization is the basis of the new metaverse. Instead of viewing the internet as a collection of different websites, apps, and microsites, the metaverse envisions a virtual world, which is interactive.

7) The metaverse offers the perfect opportunity to create financial products and services that allow customers to develop their financial knowledge and control their own data.
Disruption Interruption is the podcast where you'll hear from the biggest disruptors in the industry today. Find out what motivated them to make changes and how they overcame opposition to adoption.
Disruption Interruption can be listened to through the Podbean app and is available on the Apple App Store and Google Play.
About Interrupt Interrupt:

Disruptions are happening on an unprecedented scale, affecting all sorts of industries – MedTech, Finance, IT, eCommerce, shipping and logistics, and more – and COVID has shifted their timelines by a full decade or more. But WHO are these disruptors, and when did they say, "THIS IS IT! I GOT IT!"? Time to Disrupt and Interrupt with host Karla Jo "KJ" Helms, veteran communications disruptor. KJ interviews bad a**es who are disrupting their industries and changing economic networks become obsolete with an establishment resistant to progress. It delves into uncovering the secrets of industry rebels and silent revolutionaries who are discovering common – and not-so-common – traits that are changing our economic markets…and our lives. Visit the major pioneers of the world who persist in succeeding, despite the arrows in the back to http://www.disruptionrupture.com.
About Karla Jo Helms:

Karla Jo Helms is the Chief Evangelist and Anti-PR™ Strategist for JOTO PR Disruptors™.

Karla Jo learned first-hand how ruthless the business world can be when millions of dollars are at stake – and how scrutiny of public opinion often determines whether one company is happily chosen or another brutally rejected. As an alumnus of crisis management, Karla Jo has worked with litigators, private investigators and the media to help restore goodwill companies back into the good graces of public opinion – Karla Jo operates on the ethic of doing it right the first time, not counting on a second chance and doing what it takes to excel. Helms speaks globally about PR, how the PR industry itself has gone astray, and how, in the right hands, companies can harness the power of anti-PR to boost markets and have an impact on market perception.
About Neeraj Satija:

Neeraj Satija has 24 years of experience in the technology industry, during which he held various technology leadership positions with organizations such as Edge196, Datatel Solutions, 2degrees Mobile Limited New Zealand (2degrees), IBM and HP- DHS.

Neeraj is passionate about pursuing disruptive innovation and loves the process of building strong teams and organizations. Nothing demonstrates this more than his extensive start-up experience in different countries – USA, New Zealand, Australia and Saudi Arabia. Two of these start-ups have reached a valuation of over a billion dollars: 2degrees and Mobily.
Source:

1) Yakoboski, Paul; Lusard, Annamaria; Hasler, Andrea. "The 2020 TIAA Institute-GFLEC Personal Finance Index." Retrieved August 26, 2022. https://gflec.org/wp-content/uploads/2020/04/TIAA-Institute-GFLEC_2020-P-Fin-Index_April-2020.pdf

2) Murphy, Dan; Tescher, Jennifer. "Policy makers need to enable consumer rights and data protection in financial services. Brookings, October 20, 2021. https://www.brookings.edu/research/policymakers-must-enable-consumer-data-rights-and-protections-in-financial-services/

Share the article on social networks or by e-mail: