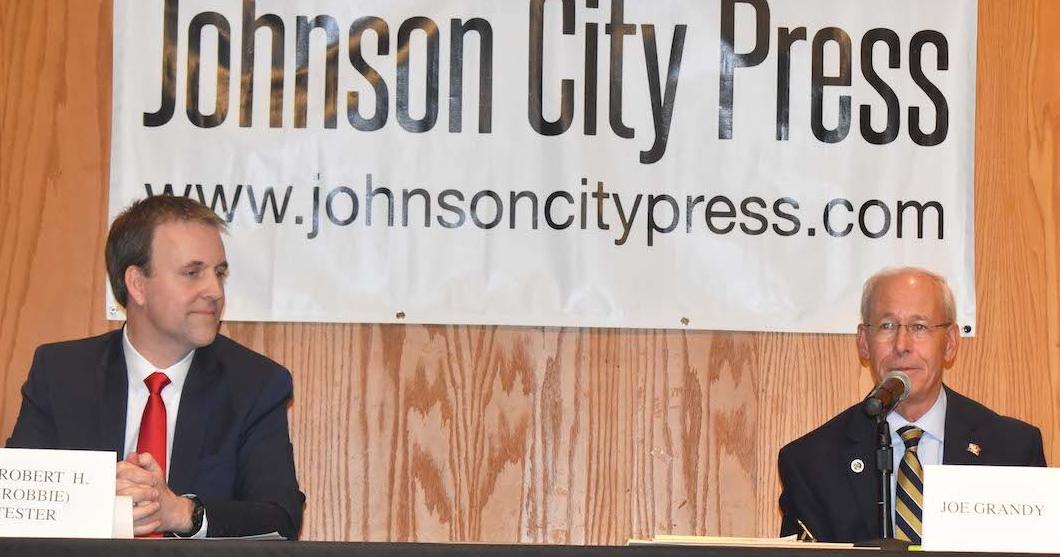 Mayoral candidates diverge on debt and economic development | Election
Washington County Mayor Joe Grandy faces a challenge from County Commissioner Robert H. "Robbie" Tester during the May 3 Republican primary.
Grandy is seeking a second term. He was elected mayor in 2018 after a 30-year business career, including heading Ferguson Enterprises.
Tester, an engineer by profession, has served on the Washington County Commission since 2014.
The winner of the GOP contest will face James Reeves, an independent candidate, in the August 4 general election.
Both candidates appeared at a question-and-answer forum hosted by the Johnson City Press at the Jonesborough Visitors Center on March 31. It was here that Grandy and Tester diverged on a number of key issues, including county debt and the government's role in the economy. development.
Grandy said he delivered on his promises to pay off the county's existing debt during his first term. The mayor also said he has a "good track record" of managing expenses in the county budget.
"You know, my slogan, 'Leadership Means Stewardship,' certainly applies to that," Grandy said. "Over the past four years, we have reduced the county's debt by more than $30 million. We must continue to pay down the existing debt that we have. »
As mayor, Grandy said the county government has developed long-term plans to address specific capital needs.
Grandy also said job creation is a key part of economic development. To do this, Grandy said the county often offers "targeted tax cuts" to compete with other communities both to attract new industries and to grow existing businesses in Washington County.
"Creating jobs is one of the most important things we can do to support our local economy, local governments and local businesses," Grandy said. "The majority of new jobs are created by existing businesses and sometimes it takes help for these businesses to grow. Targeted tax cuts for business growth are an integral part of the economic development exercise.
Tester said the best way to manage the county's debt is to "borrow no more." As commissioner, Tester said he did not vote to add more debt to a capital plan passed by the county in 2016.
He also said he doesn't think it's the county government's role to "pick winners and losers" in providing economic development tax breaks.
"Economic development is definitely an issue where he (Grandy) and I disagree on our approach," Tester said. "I think I feel like the proper role of government in economic development is to keep your taxes as low as possible and to keep the regulations as low as possible."
He said he believed the role of government should be to maintain "a level playing field for competition". Tester said the free market economy should determine the scope of economic development.
"So these specials that we do where we give tax incentives or tax breaks or to a company or a developer, I disagree with them on several principles," Tester said. "I always voted 'no' for them."