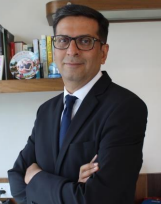 The use of blockchain in financial services
The use of blockchain technology in the financial services industry has long been hailed for its impeccable ability to bring transparency, time efficiency, and productivity to the ecosystem. Simply put, blockchain helps reduce data breach risks as well as operational risks.
What is Blockchain?
Blockchain technology creates blocks of data which are stored in a chain. Each time a new block is created, it is added to the chain, resulting in the formation of a digital ledger. Blockchain networks are of two types: public blockchain and private blockchain. Anyone can join a public blockchain. However, private blockchains are only accessible to verified members who can view a digital asset stored on a decentralized blockchain database.
How does Digital Ledger (DLT) technology work?
While blockchain has found the most takers in banking and finance, DLT also has the potential to transform several other industries, including manufacturing, clean energy, electronic health record management, and more.
Distributed ledgers use independent computers to record, share and synchronize transactions in separate electronic ledgers rather than centralizing data as in a traditional ledger. This technology can dramatically change the financial sector, making it more reliable, efficient and resilient.
DLT can address persistent challenges in the financial sector and transform the roles of financial actors. A PwC report reveals that 56% of Indian companies are ready to integrate blockchain into their central procedures. This says a lot about the awareness, the will and the speed at which blockchain is being absorbed into the social and economic framework of the country.
Big Banks Are Embracing Blockchain
In February 2020, the Reserve Bank of India published an article titled "Distributed Ledger Technology, Blockchain and Central Banks". It explains the use of DLT and blockchain technology, the latest developments in blockchain technology and its use in central banks in India and around the world.
In response to the RBI's initiatives, several public and private banks have started leveraging the benefits of DLT and blockchain by teaming up and investing in the fintech sector. To name a few, State Bank of India has partnered with JP Morgan to use its blockchain technology and Axis Bank, ICICI Bank and Yes Bank have joined the interbank information network launched by JP Morgan. Creating ripples in the digital lending space, HDFC Bank, State Bank of India, IDFC First Bank, South Indian Bank and ICICI Bank have invested in shares of Blockchain Infrastructure Co Pvt Ltd (IBBIC) of Indian banks to offer DLT solutions for the financial sector.
Blockchain opportunities in finance
Improved transparency: With blockchain, users perform activities on a public ledger. As a result, the industry becomes more transparent. Such transparency can help reveal inefficiencies and lead to problem solving as the risk to financial institutions decreases.
Simplification of operations: Blockchain allows financial institutions to track multiple parties in real time and manage letters of credit and bank guarantees. It simplifies operations for merchants and customers.
Faster settlement: Cash, cashier's checks and bank transfers are safe methods of payment. However, cash cannot be traced, bank checks can be forged, and wire transfers take time. Blockchain-based payments eliminate these concerns for greater customer confidence. The technology enables the real-time transfer of funds between financial institutions, eliminating friction and securing settlement.
Smart contracts enabling automation: The blockchain does not revolutionize banking with only money transfers. The technology is ideal for tracking transactions with the possibility of automation. Using smart contracts, financial service providers can track payments from buyers and deliverables from sellers. He can also solve any problem that arises during the transaction. With such automated systems, the risk of human error decreases.
Improved customer experience: Most banks have implemented blockchain technology for international payments, which saves time and money. Customers can also use blockchain money transfers to make online fund transfers using mobile devices. They no longer need to go to a money transfer center, wait in line and pay transaction fees.
The challenges of blockchain in finance
While implementing blockchain technology comes with a plethora of benefits and opportunities, it also comes with some challenges.
Relatively new: The blockchain is still in its development phase. It has many hurdles to overcome with the ongoing modifications. Regulators have yet to catch up. Therefore, the government may need to develop guidelines and policies that monitor the use of blockchain and the companies that use it.
Different methodology: The blockchain does not allow data to be modified. Although this is an advantage, it can cause problems for some financial institutions that need to modify the stored data. After blockchain implementation, companies will need to restructure their methodology to ensure that there is no need to modify data.
Lack of interoperability: Blockchains are not able to exchange and use information from other blockchains. As a result, there is no communication between them. Blockchain networks should focus on developing interoperability solutions.
Affordability: Switching to blockchain technology is an expensive and time-consuming affair. This is because there is a shortage of supply of skilled blockchain developers. Thus, smaller financial firms may not want to invest with the overhaul systems already in place.
Bad adoption: To facilitate smooth and fast transactions, blockchains need to be widely adopted. This is all the more the case in the financial sector since companies work with each other and need a common framework for all to manage transactions. For example, if a bank wishes to initiate a funds transfer via blockchain, each bank involved in the process must have blockchain technology deployed.
What awaits us?
Blockchain technology and its use in the financial services industry are still relatively nascent. Going forward, we expect two important developments: interoperability and improved transaction processing. These improvements will make the technology more useful for financial institutions.
According to the Research Dive report, the global blockchain market will greatly benefit the financial sector in the future, mainly because banking and financial institutions are increasing the use of blockchain applications in payment processes to provide international exchanges. at reduced costs and secure transfers.
And the disruption will continue with the proliferation of innovations in the IoT, which is revolutionizing several industrial sectors. Deploying blockchain in banking and finance will eliminate paperwork, develop a secure environment, and reduce transaction processing time. That's not all, blockchain should open new opportunities for cost reduction. It can facilitate customer journeys and promote more secure data transactions.
END OF ARTICLE
"Dazed" System: As the bulldozers roll, the upper courts look almost dazed. They have to answer

As India bustles about burning trains and buses as part of an army recruiting scheme, China quietly rolls out a new aircraft carrier that wows the west

Modi and BJP at a crossroads: After Nupur, tensions between the party's grassroots wish list and GoI's political agenda are more acute

Baptism of fire: The army pension needs to be pruned. But Agnipath protests show future soldier anxiety needs better answers

India needs Agnipath, not pensionpath

The bulldozers only stop with a reprieve: in Prayagraj and elsewhere, demolitions without due process are illegal. The courts must intervene forcefully

Murmu & BJP underlings: It's not the Adivasi vote, which the BJP is already getting, but the party's broader political discourse around the marginalized that explains its choice of presidential candidate

English-Vinglish, Hindi-Shindi: India does not need a national language. Also, Hindi is growing and English is no longer elitist

To be truly presidential: 21st century India needs a president who will be the guardian of the conscience of democracy

Burning Question: Why is it so easy to burn trains? Because the RPF is effective, local police coordination is lacking